Mikhail Kryzhanovsky, the author of Espionage and Counterespionage Handbook, White House Special Handbook, a former KGB spy, CIA expert.
kryzhanovsky7777@gmail. com
New York
DOSSIER#1. Steele, a former MI6 officer, FBI source, against Trump.
Steele has said that he found "troubling information indicating connections between Trump and the Russian government". According to his sources, "there was an established exchange of information between the Trump campaign and the Kremlin of mutual benefit". "
He approached the FBI because he was concerned that Trump, then a candidate, was being blackmailed by Russia, and he became "very concerned about whether this represented a national security threat".
DOSSIER #1. Kryzhanovsky against Trump.
Who is Trump or why it's easy for Putin to handle him.
Because he is a schizophrenic and that's why he loves secret activities and is ready to be involved in any kind of conspiracy. Unfortunately, his medical problem is a disaster for America.
SCHIZOPHRENIA – a long-term mental disorder of a type involving a breakdown in the relation between thought, emotion, and behavior, leading to faulty perception, inappropriate actions and feelings, withdrawal from reality and personal relationships into fantasy and delusion, and a sense of mental fragmentation.
Trump's symptoms of this long-term mental disorder include:
1. Hostility, suspiciousness, extreme reaction to criticism – Trump's anti-media attitude.
2. Odd or irrational statements : "We build the anti–Mexican wall and Mexico gonna pay for it".
3. Delusions of grandeur : Trump believes that he is a unique human being (like Jesus) on a mission to save America. His malignant narcissism is beyond any explanation.
4. Unpredictable or inappropriate emotional responses – "I can kill anybody in the street! "
5. Trump's behavior is bizarre – he treats women as sexual slaves.
6. Trump's thinking and speech are disorganized, speech speech often includes putting together meaningless words that can't be understood – word salad. That means he's usually promising to fix everything (healthcare, immigration, Palestinian problem) but has no idea what to do.
7. Delusions – Trump has false beliefs that are not based in reality. One of the biggest, with no proof at all, – his false contention that he lost national popular vote because of illegal votes.
8. Trump's motor behavior in public is disorganized and abnormal motor behavior. His appearances are really scary because they usually end up in unpredictable agitation no matter what the question or problem is under discussion.
9. Trump is a pathological liar, no matter what facts you have to prove he's wrong. His statement "I never met Putin" is ridiculous after this Savage's 2015 radio show audio was posted on the web.
10. Trump has trouble organizing his thoughts or making logical connections. His mind is racing from one unrelated thought to another. Sometimes he has "thought withdrawal, " a feeling that thoughts are removed from his head, or "thought blocking, " when his flow of thinking suddenly gets interrupted.
ATTENTION : Trump ends up in a suicide if his schizophrenia is untreated at all.
Putin ordered Trump to erase me for telling the truth about his crimes..
Out of nothing, I've got personal invitation from Trump.
November 17, 2017, Washington, D. C.
FROM:SteveWynn contact@campaigns. rnchq. com
TO:Mikhail Kryzhanovsky prof777prof@yahoo. com
I hope you can join us and help show the President our steadfast support.
FORWARDED MESSAGE
From: Ronna. McDaniel@gop. com Subject: Breakfast with President Trump
Good morning, I want to invite you to breakfast with President Donald J. Trump in New York City on Saturday, December 2. Please find the invitation with more details below. Space is limited. Please direct your RSVPs and any questions to Events@gop. com or 202-863-8646. It is going to be a wonderful event, and I hope to see you there! Ronna McDaniel, Chairwoman, Republican National Committee
Invitation for a breakfast with Trump
This is what Trump ordered to do to me for talking too much.
November 21, 2017, Elmhurst, New York
I was detained at Queens Center Mall by 10 (ten) U. S. Secret Service agents.
I wasn′t arrested, no charges pressed. They said: "You are extremely dangerous, very professional person, and you know what's going on and why". We handcuff you, it′s protocol, we go to the office to talk". They emptied my pockets, took my medication and brought me to Elmhurst Hospital, Queens for evaluation as my blood pressure was high. There I was handcuffed to the bed and denied my own pills and the pills Dr. Wells from ER ordered for me. They wanted to kill me and I almost died of a very high blood pressure. I was interrogated on my November 17 tweet "I can kill Trump" where I wrote about GOP wrong practice of sending invitations for December 2 Trump′s fundraiser to everybody who′s able to pay $1, 000. Agents asked if I know Putin in person, how I shoot, do I want to kill Trump. I gave negative answers. They said they briefed U. S. Attorney on the case and wait for his approval. They got nothing and after that I was locked up in psych. unit from November 22 through December 6. After I was discharged, the agents met me again, no explanations, no apology. Questions on Putin again.
Attention: nobody asked me a single question about my communication with Putin's administration and FSB, Russian KGB successor – why? Because Trump is working for President Putin and Trump ordered them to let me go when they delivered information about my contacts to him. Trump is sure he can use the information against Hillary Clinton in case she runs for a president – why not?
The proof Putin wanted to erase me.
Case #1. Putin ordered 9/11 attacks with 3, 000 killed
There's a connection to some important names and facts.
Alexander Sakharovsky, Colonel General, Chief of KGB First Directorate (espionage) in 1956-1971. "The father of international terrorism". The airplane hijacking was his his own invention, as he explained to Ion Pacepa, Chief of the Foreign Intelligence Service of Romania in 1971.
Victor Vladimirov, Colonel General, a former Chief of KGB «V» Department in 19661970 (KGB sabotage and terror operations in Washington, London, Paris, Rome and Bonne), and KGB «RT» Department Chief in 1984-1987 (recruiting foreigners on the Soviet territory and sending secret sources abroad).
Here are just a few Department "V" operations.
KGB"Vostok" Operation. In March, 1970, The Soviet navy's reconnaissance ship Kursograf delivered guns, machine guns, RPG launchers, grenades, sniper rifles, landmines and roadside charges with remote detonators for Wadi Haddad, the head of operations at the PFLP. On September 6, 1970, at Habbad order and under his supervision, PFLP terrorists, trained by KGB and armed with the weapons delivered by KGB, hijacked five jet airliners bound for New York City and one bound for London.
On May 9, 1972, a flight operated by the Belgian airlines Sabena from Vienna to Tel Aviv, was taken over by four members of the Palestinian Black September movement.
On June 27, 1976, two PFLP members and two from Germany's Baader-Meinhof Gang, hijacked an Air France plane on a flight from Tel Aviv to Paris.
In January, 1987, I, KGB intelligence officer, and two other spies who worked in Afghanistan during Soviet invasion in 80s, met Vladimirov while he was touring KGB regional offices. He, informed us that in USA FBI blocked espionage activity of KGB offices under cover of Soviet diplomats. That's why we have to intensify our efforts by sending more secret sourses to America. He, the top KGB specialist in terror, meant sending terrorists in the first place. No doubt, in 2001, Putin ordered General Shlyakhturov, the Military Intelligence Department Chief, and Russian Intelligence (SVR, KGB successor) Director Lebedev to plan the attack, use (recruit) or set up Osama bin Laden to blow up America. The object (Twin Towers) and the number of victims, up to 3000 people, were well calculated. The Russian military (espionage) satelllites were used for technical support of the 9/11 operation.
THE REASON: It was extremely important for Putin to re-direct radical Islam vector from Russia to the USA.
If FBI starts investigation into Putin's «The Boomerang» and establish connection between SVR and al-Qaeda, the Interpol international warrant against Putin has to be issued. And there might be a ground for a military operation against his regime.
And that's how Putin to tried helpKGB asset Trump to make billions on 9/11 tragedy
May 18, 2005, New York
Donald Trump speaks during a news conference presenting a model of a proposed design for the rebuilding of the World Trade Center site May 18, 2005 in New York City. Trump pushed a proposal that would have rebuilt the World Trade Center's twin towers, with the only difference being the tower's being five stories taller. Instead of going with Trump's plans, New York City officials opted to build the 1776-foot-tall Freedom Tower at the site of the World Trade Center. The 94 story building opened in July 2013 after seven years on construction.
In an interview on MSNBC in 2005, a decade before starting his run for president, Trump called the Freedom Tower "disgusting" and a "junk yard. " "I would rather have nothing than what they're building, " Trump said. "It was a terrible design; it was designed by an egghead architect who doesn't have a lot of experience designing something like this. "
Case # 2. Putin/Trump "The Boomerang" Operation.
"New Russian World Order" or a "controlled chaos" strategy – Putin's "new world order" to be established through the international chaos, permanent wars, civil wars and revolutions.
My definition :
"Controlled chaos" strategy – geopolitical re-division of the world by provoking riots, revolutions, civil wars and overthrowing regimes in independent from Russia sovereign states to establish the Russia's world hegemony. Political, national, religious and social conflicts in target countries have to be permanent. The strategy is being covered by a "struggle against international terrorism". The operation is preceded by information war against the target regime and backed by the Russia military forces if necessary.
Inside USA the strategy is used to provoke the U. S. government collapse. By Trump.
The "Boomerang" Operation (collapse of the USA, revenge for the USSR collapse) is extremely successful with V. Putin, SVR and its agent D. Trump as major players.
The 1st stage of the operation: the recruitment of D. Trump.
The 2nd stage: the division of Americans along racial, social and political grounds. Executed by Trump during 4 shameful years of his "presidency". A recommendation of the SVR agent Trump to remove masks at the peak of the coronavirus in the United States led to the death of 210 thousand (! ) Americans, this is called the GENOCIDE of the nation.
The 3rd stage : American civil war between Trump supporters (racists, fascists) and the people.
First two stages completed. The third one started with Trump's defeat in the presidential election and his refusal to surrender power in a peaceful constitutional way. And the January 6, 2021 proved "The Boomerang " is in full progress! Bravo, Putin!.
In the upcoming civil war, at the initial stage, battles will take place in large cities, where the Nazis will be opposed by militants from the radical movement "Black Lives Matter" (they support the Democratic Party). Then the war will cover the whole country and its apotheosis will be the collapse of the United States into democratic and republican states, dual power and the death of millions of Americans.
Case #3. How Putin handles Trump
Now, let's start Trump's treason story.
1986
Soviet Ambassador Yuri Dubinin met Trump at a party in New York, flattered him with praise for his business achievements, made him happy and saw the guy was an easy target for KGB. Dubinin talked to Yuri Antipov, the New York KGB station chief, Antipov sent a coded telegram to KGB Chief Vladimir Kryuchkov. KGB boss ordered Viktor Vladimorov to start the operation on Trump.
January, 1987
Dubinin informed Trump that "Goscomtourist", Soviet State International Tourism Committee (often used as a cover by KGB) was interested in a joint Soviet-American hotel project.
July 4, 1987
Trump came to Moscow to negotiate the project which was a KGB trap. Russians knew Trump wanted to buy a land right next to Kremlin – instead, they insisted on the lease, which was an unacceptable offer for Donald. Then they said there was another proposal from a businessman in Saint Petersburg. Trump was interested and the city was on his tourist route anyway.
That was when Putin appeared. First, he said, Russians might invest in Trump's business in USA and worldwide. Second, he convinced Trump that "genius" like him deserved to rule the world as the U. S. President. The deal was : Russians help Trump with the presidency – Trump helps Russians to avoid WWIII. Donald took the bait.
September, 1987
Trump spent $100, 000 (Russian money, of course) on full-page newspaper ads at New York Times, Washington Post and Boston Globe that published a political manifesto. "An open letter from Donald J. Trump on why America should stop paying to defend countries that can afford to defend themselves. "
2003 – 2017
Russians made 86 all-cash purchases — a red flag of potential money laundering — of Trump properties, totaling $109 million. In 2010, the private-wealth division of Deutsche Bank also loaned him hundreds of millions of dollars during the same period it was laundering billions in Russian money. "Russians make up a pretty disproportionate cross-section of a lot of our assets, " said Donald Jr. in 2008. "We don't rely on American banks. We have all the funding we need out of Russia, " boasted Eric Trump in 2014.
2013
Putin, being aware that Trump might get out of control in case he's elected the President, ordered the operation to get a compromising stuff on the asset.
November 2, 2013
Trump came to Moscow for his Miss Universe 2013 pageant and stayed at Ritz Carlton. Trump hired prostitutes to perform a "golden showers" (urination) show in front of him", "defiling" the presidential suite bed in which the Obamas had previously slept. It was a set up, a regular one.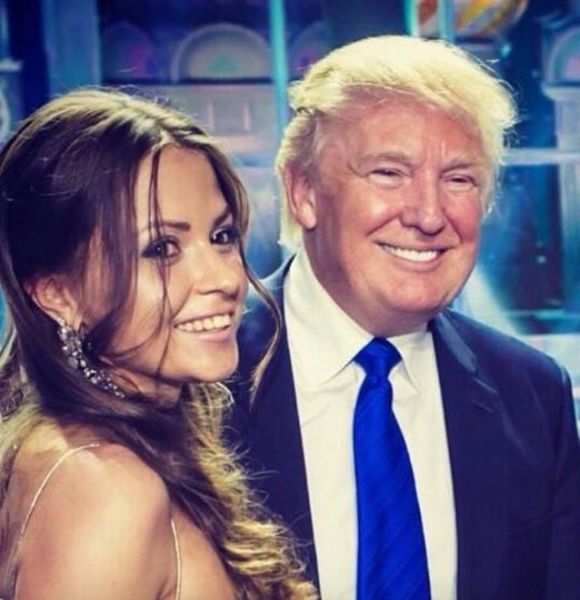 Attention : Trump met Yulia Alferova, a beautiful girl, at the Miss Universe beauty pageant in Moscow. She shared the image on her Instagram on November 9, 2016, the day after Trump was elected the US president. Trump's longtime friends and interlocutors on business matters in Russia, the billionaire Aras Agalarov and his son Emin, the president and vice president of the Crocus Group real-estate company, asked the then-26-year-old Alferova, a quick-thinking Moscow entrepreneur, to help organize Trump's Miss Universe contest.
Was she one of the ladies Trump had sex with in the same suite that the Obamas had?
2015
Russian President ordered to hack 2016 presidential elections.
November 8, 2016
Trump got the White House.
"Golden" rules Putin is following handling Trump
1. Do not tell Trump about problems and mistakes of the agency, about your personal problems, about other agents, about his own file and compromising information you have on him.
2. Don't show Trump any classified documents – you might provoke him to sell the information to somebody else.
3. Don't trust Trump too much; they can use you to compromise their personal enemies.
4. Never criticize Trump – be an adviser. Don't talk straight if he avoids cooperation or brings you garbage – just reduce or stop payments, or get rid of him.
5. You lose Trump if you don't pay him for a job well done, ask him to "produce" fake information (to show your bosses how much great espionage activity you have going on) or if you don't care about his personal security and his personal problems (health, career). And — never give poison to your agent for security reasons..
Questioning Trump
This is of extreme importance – the right question brings you the right answer and top secret info. Give Trump a chance to tell and show you everything he's brought, no matter how chaotic the story might be or how ordinary the documents look. Don't make written notices. Don't bring written questions even if you are talking about some advanced technology — look and be professional. Don't let Trump analyze the information before he talks to you and don't let him bring it in a written form – it's usually not complete; he can lose it; or it may be stolen from him. If there are documents, he has to bring a microfilm. Ask questions — when? where? what happened? why? what's going to happen next?
After that you tell the story back to Trump and he adds details. At the end of the meeting give the agent another task and don't ask him to bring you "something, " because he'll bring you just that "something" and nothing else.
Remember, questioning is not interrogation; do not bring another officer to the meeting because it will look like cross interrogation.
Teaching Trump
Teach Trump to:
– follow security rules while talking to people, working with the documents and especially meeting the officer (some foreign agencies practice open contacts with many people, hoping that the meeting with the agent won't attract much attention — I don't recommend that)
– always stay calm in stressful situations
– always keep discipline and come in time
– use analytic abilities working with people and documents – ask yourself as many questions as you can
Checking Trump
You can never be sure you are not working with a "double agent, " even if he brings you top secret stuff. Besides, agents are human beings and they make mistakes — they forget about security, spend too much money, talk too much and ask extra questions; if arrested they may not play the hero but will tell everything. Anyway, you can check Trump:
a. by fake arrest followed by severe interrogation.
b. through provocation (tell him you know about his "double game" and watch his behavior after the meeting (it's good to have a listening device or a camera in his house).
c. by making an analysis of all the information and documents he delivers and comparing it with information from other sources.
d. through other agents.
e. through your "mole" in counter-intelligence (if you're lucky).
f. through technical devices (reading the mail, listening to the phone, secret searching his house and office, watching him through hidden cameras, trying surveillance in the street).
Trump termination (one-way ticket)
It doesn't happen often but you have to know some special situations when you have to terminate Trump:
1. Trump knows too much (talks too much) and is ready to betray you.
2. Trump is under suspicion and you can't help him for political reasons (diplomatic, international scandal, etc. ) — in such a case an accident could be staged. It happens that the agent is too close to President.
3. Trump was involved in special operations (murders) and is dangerous as a witness.
4. Trump is trying to blackmail you.
5. You need to press (blackmail) other agents.
How Putin paid Trump
January – August 2017
Russian oligarch Victor Vekselberg, who has an estimated worth of $13 billion, a close friend of Putin, wired $500, 000 into a First Republic bank account registered to Trump's personal lawyer Michael Cohen's Essential Consulting Co.
The money was routed to Cohen in 8 payments from Columbus Nova, a Manhattan-based investment firm owned by Vekselberg's American cousin Andrew Intrater. Richard Ownes, an aatorney for Columbus Nova, explained that the wire transfers were issued after the firm hired Cohen as a business consultant.
And this is very important:
How to identify Trump as KGB Putin's "mole"
Spies identification
If a spy is an intelligence officer working abroad under "cover" (diplomat, businessman, reporter) you can identify him by:
– following the careers of all diplomats who work at your enemy's embassies all over the world
– recruiting a "mole" inside the intelligence service (or inside the station)
– setting up your agent for recruitment by the enemy's station
– watching foreigners who try to make discreet contacts with native citizens with access to secrets
– making a model of a spy (professional behavior, attempts to detect surveillance, attempts to recruit sources or just get any classified information during normal meetings, "throwing away" money trying to get access to government employees, military and scientific circles)
– using secret surveillance and listening devices inside the station and practicing secret searches
If a spy is an intelligence officer working in your country under "cover" of a native citizen (or he is recruited by a native citizen) you identify him by making a model (contacts with identified spies — that's often the only sign which points out a spy, and that's why surveillance is very important in getting information from a "mole").
"Moles"
A "mole" is a spy inside the government, recruited or "installed" most often within the special services, by an outside government/agency. The 3 most dangerous things a "mole" can do:
1. Calculate President's plans and decisions judging by information he's asking for.
2. Manipulate information being sent to President, and thus influence global political decisions
3. Paralyze to some extent the government (if he's CIA or FBI Director)
Methods to detect a "mole":
A. Use index cards (special file) — never use computers to save this information!
Prepare a file on each officer and mark there the signs of a "mole" — has or spends too much money, asks too many extra questions; uses professional skills to check for physical and technical surveillance; has discreet contacts with foreigners; discreet copying of top secret documents; attempts to get a job in most secret departments; talks with close friends and family members about the possibility of making money as a "mole"; behavior deviations — extra suspiciousness, excitement, depression, drugs or alcohol addiction. Three signs are enough to start an investigation — the "triangulation" principle.
B. Use provocation. If a prospective "mole" is looking for a contact with the enemy and is ready to betray, and you have exact information, organize such a "meeting" for him. Do not arrest the person right away — play along, as he may give you connections to other people who are ready to betray. There's one more provocation method: you supply the suspects with "highly classified information" and just watch what they do.
C. Use "filter" or "narrowing the circle. " Include all the officers you suspect in a "circle" and narrow it until one name is left as the most likely suspect.
D. Make a "model" of a "mole, " judging by information you have on him.
E. Recruit an insider. Recruit a "mole" inside your enemy's intelligence service and he'll help you to find the one inside yours (it's called "grabbing the other end of a thread").
F. Don't trust anybody.
What to do if you detect a "mole"
– assess the damage
– restrict his access to classified information and start "feeding" him with fake data
– stop all operations he was involved in and create the illusion they are still in progress
– bring home officers and agents who work abroad and had contacts with him and those to whose files he had access
– start 24/7 surveillance if you've decided to play the game and look into his contacts
– arrest the "mole" discreetly (if you want to continue the game)
Attention : Effective methods to prevent treason do not exist.
How to cover your "mole"
There are special methods to cover your own "mole" and a "switch" is the most effective — it's when you "switch" counterintelligence to other, innocent persons who work with the "mole. " You can try information "leaks" through a "double agent" — it looks like you receive top secret information through another traitor or by breaking the electronic security systems. Or you can try information "leak" through publications in big newspapers — it looks like information is not secret and is known to many people or there's another "mole. "
Case # 4. How Trump supports terrorists.
ATTENTION: Putin, Azerbaijan President Aliyev, Iranian president Rohani and Supreme Leader of Iran Ayatolla Khamenei demonstrated very close ties many times, including trilateral meetings.
Donald and Ivanka Trump's phony Baku Azerbaijan hotel was front for Iranian money laundering.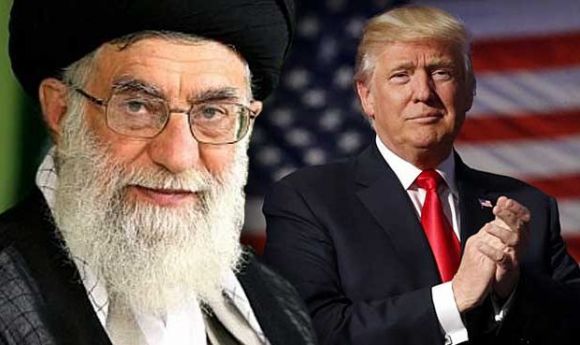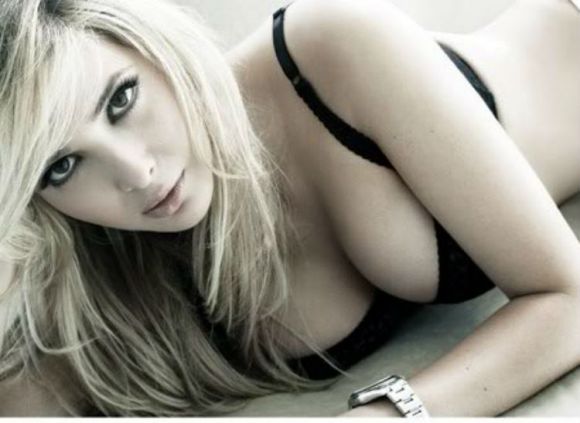 Ali Khamenei, Iranian Supreme leader, Ivanka and Donald Trump, his assets
Americans have to know that right after taking office, Donald Trump abandoned a bizarre hotel project in Azerbaijan which never made any sense to begin with. It was built in an industrial part of town where a hotel wouldn't be needed. The roads being built to the hotel didn't even lead to it. And now it turns out the entire hotel project appears to have been little more than an excuse to illegally launder money coming from the Iranian Revolutionary Guard.
The Trump International Hotel & Tower Baku project was spearheaded by Donald Trump's daughter Ivanka Trump, who repeatedly visited the property and posted photos of herself touring it, even though as best anyone can tell the hotel was never going to open or do any business. It appears in hindsight that Ivanka had merely been doing all of this in order to create the outward appearance that the hotel was a legitimate project.
Аs it turns out, the hotel deal had been struck with Ziya Mammadov, the corrupt Transportation Minister of Azerbaijan, who has a history of arranging shady real estate projects as money laundering fronts. Mammadov and his family have deep financial connections to the Iranian Revolutionary Guard, making it almost certain that the Trumps were knowingly and illegally doing business with Iran. It also seems likely that Trump shuttered the project upon taking office in the hope it wouldn't be investigated.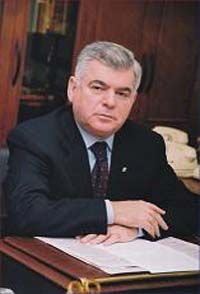 Ziya Mammadov
Тhe legal responsibility falls on U. S. citizens to be aware of which foreigners they're doing business with. So even if Donald and Ivanka Trump try to claim ignorance in this instance, it wouldn't legally get them off the hook.
So, Ivanka Trump and her beloved father are working for Ali Khamenei, iranian Supreme leader.
And –
Iranian Revolutionary Guard provides support for Hamas, Hezbollah and Islamic Jihad in Israel, and has given much support and training to terrorists supporting the Palestinian resistance. They are aiding the Iraqi insurgency in southern Iraq. On September 26, 2007, the United States Senate passed legislation by a vote of 76-22 designating the Iranian Revolutionary Guards as a terrorist organization. U. S. President George W. Bush and Congress labeled the group under the guidelines established by Executive Order 13224 issued after the September 11, 2001 attacks.
In August 2012, Ayatollah Ali Khamenei instructed the Revolutionary Guards and Quds Force to increase their terror attacks due to what the Iranian government perceived as their interests being threatened by United Nations sanctions and the West's support of Syrian opposition.
In January 2017, Saudi Deputy Crown Prince Mohamed Bin Salman said that Iran represents "the three main ills of the region" which are "borderless ideologies, state instability, and terrorism" and that there is "no point in negotiating with a power that is committed to exporting its exclusivist ideology, engaging in terrorism, and violating the sovereignty of other nations".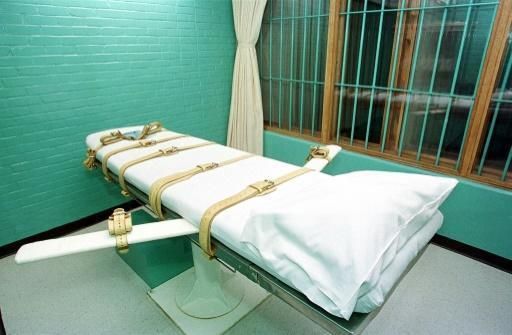 Case #5.. KGB Putin instructions for Trump on how to win presidential elections and manage the White House
KGB : THE OVAL OFFICE MANAGEMENT
Come in!
Be strong. Be attractive. Be logical.
All you have to do during your first term is to take care of the second one.
The 2nd term's agenda is to set your place in the world's history.
1st year. You have enough public support to start big initiatives.
2nd year. Develop your initiatives.
3rd year. Go, go public preparing your re-election. Presidents often lose voters during this period.
4th year. All-politics year. Try to achieve important international agreement (a treaty) for the historic record. Win re-election.
Divide your day into hours and minutes : 30% of your weekly hours go to senior White House staff, 10% – to Cabinet, 5% – to Congress members, 5% – to foreign leaders.
No matter what, even if it's a war time, sleep one hour during the day to give your brain a break, and finish your day at 6 P. M. After 6 P. M. do not read any documents, do not take any phone calls, do not talk to anybody but family members and close friends.
Eat whatever you want, but remember, the more calories you have to digest, the slower you think.
REMEMBER:
1. You are a national image (a national ideal based on pseudo-facts), a symbol of national unity, national continuity and the symbol of federal government. Leadership is the first quality Americans look for in you – they want a President who is steadfast in his convictions.
2. The power to control the federal budget is your top prerogative.
3. Define for yourself whom are you going to be:
– utopist (ideas manipulator)
– manager (Government and Congress manipulator)
– challenger (reformer)
4. Any problem turns into a political one if it threatens your power.
5. Use your legal right to press the nation and illegal ones to press the world to eliminate problems.
6. Once you're in politics, you are a hostage of your status and you must sacrifice privacy in return for power.
7. Never play alone.
8. All your decisions are risk taking ones (any decision brings a problem). You may ask advice before you make a decision, but don't listen to anybody afterwards. You are not paid for the quantity of your work but for leadership and ultimate decision making.
9. Correct political mistakes fast, before they become political scandals.
10. Never blame previous presidents for the problems they left for you – that's a sign of political weakness.
11. Get rid of a White House tradition to deal with problems if they "knock at the door" only.
The White House Staff
Chief of Staff
The Chief of Staff reviews most of the documents that go to you, gives his/her advice after intense information processing and consultations with other agencies and then – he's/she's telling others what President wants.
A lot of people, including Congressmen and Senators, will try to reach you through him/her. He/she has to give exact instructions to the Press Secretary on the White House message about current headlines and the President's plans and actions (the Press Secretary works the same way with VP and First Lady/First Gentleman press teams).
He/she is responsible for your time and has to plan at least two months ahead your effective activity together with Communications, Scheduling and other policy offices' Directors plus VP and First Lady/First Gentleman Chiefs of Staff. Besides, he/she has to do "dirty jobs" for the President like firing people or act as a "lighting rod" to draw criticism away from the President.
National Security Adviser
The National Security Adviser controls all the documents concerning national security coming from Defense, Homeland Security, State Departments, and national security agencies, and coordinates these offices.
His/her position is not subject to Senate confirmation, which, according to a long-standing Washington tradition, means that he/she can't be compelled to testify before the Congress. He/she decides what papers the President should see and, what's more, he gives his comments on any document.
ATTENTION :National security is 100% the President's business, so keep this figure at some distance and don't let him think of himself as your Number Two – foreign leaders will try to work through him to get to you or to influence you.
He/she has to oversee the functioning of the National Security Council (NSC), which is your foreign policy making tool and a "government inside government. " This is something very special and convenient about the NSC – it's responsible only to you and there's not much Congress control over its budget. Plus, National Security Adviser is involved in every meeting between you and any foreign leader and is responsible for the schedule.
The most powerful of executive offices after the National Security Council is the Office of Management and Budget (it's authorized to make cuts in federal agencies' budgets, to advise you on national fiscal and economic policies, supervise execution of the government budget, evaluate the performance of federal programs).
Who they really are
Staffers (and Secretaries) prefer stability and don't like if you're "rocking the boat" – that's why they often play reform-stoppers.
They don't like to work hard and prefer to send you on "very important visits" abroad as often as possible.
They try to load you up with an extremely busy schedule and "feed" you witnh hundreds of useless documents, create artificial problems and conflicts to show off their hyper-activity.
They try to be your decision makers and they do influence you because, unlike Secretaries, they have daily contact with you; that's why you don't see Cabinet members as your principal aides.
They try to set you up by interpreting your decisions and orders in their own way, as every adviser is the "American President himself. "
They know you won't accept "complicated, " "expensive, " "risky" projects and they'll try to sell you "simple, " "cheap" and "popular" ones only.
Watch your senior staff and how they present ideas. If somebody wants to push his idea or a project, he will give you three options, making two of them unattractive. Naturally you pick the one he presented as least harmful.
Their dirty tricks
1. Fight for access (influence) to President or to people with direct access (aiming to get a better position if President is re-elected).
2. Isolate government from the President.
3. Influence = relationship with the President.
4. Get a table in the West Wing. You are nobody if you are stuck in the White House basement and see the President by appointment only.
5. Before you send a document to the President, have to look at it and ask yourself if it's too immoral or too radical.
6. Never say "no" aloud to anybody.
7. Remain anonymous with conflicts.
8. Never bring bad news to the President – let it be some idiot, not you.
9. Never say "That's impossible, " no matter what the President is asking you to do.
10. Disappear (and find an excuse later) if the President is in a bad mood.
11. Never ague with the President if there's somebody else present.
12. Learn how the President likes to do business (talking, giving orders, writing the documents and taking notes, managing official and non-official meetings) and his habits (food, drinks, cigarettes, favorite sport, movies, show business stars, writers, politicians; attitude to women) and try to copy him — the President has to feel comfortable with you.
13. Fight anybody who's trying to do your job to be closer to the President.
14. Avoid taking on risky tasks controlled by the President in person (if necessary, try to "delegate" it to somebody else).
15. Avoid being associated with any failures.
16. Don't say anything President doesn't want to hear.
17. Use "Smith's Principle": if it can be understood by Congress, it's not finished yet.
18. Write memorandums not to inform the reader, but to protect the writer.
19. No matter what subject is under discussion, employ the language of sports and war: say "breakthrough" instead of "progress", never speak of compromise, consider "adopting a fallback position. "
20. Every public appearance in with the President is an investment in your career after the White House.
21. Minimize the number of rivals.
22. Gain independence according to how much the President needs you.
23. Before asking the President for some personal favor, make him believe he's going to get some (political) profit out of it.
24. Tell the President what he can do and help him try to do it, and never tell him what he shouldn't do.
25. Avoid giving any personal gifts to the President if you are not Chief of Staff.
Every public appearance in with the President is an investment in your career after the White House.
There is an open power struggle between national security staff members and domestic policy staff and between those who develop new policies and initiatives versus budget staff.
How to Manage the Staff
The best employee is the one you can blackmail. Besides, a very good "pusher" for your people is their deep understanding that they have to work together to help the President stay in office next term because if the President leaves, everybody leaves)
Adopt a dominant management style:
1. Pyramidal, structured as hierarchy with you at the top, followed by the Chief of Staff and other key assistants. I strongly recommend this one – it insures a clear chain of command and provides precise channels of information going up and directives going down.
2. Circular, when you are surrounded by advisers, all of whom have equal access to the Oval Office. That means chaos (JFK style).
All your assistants are political assistants and everyone will try to play a policy-maker. But a good thing is that all of them were not elected and are responsible to you only.
Thus you can:
– reform your staff freely as there's not even a word about it in the US Constitution
– interchange key figures if domestic crisis is approaching
– if you don't agree with the staff on important issues, go to polls for back-up.
– use "the carrot and the stick" tactics
– use "pulling by pushing" – give an important job without publicity to those who become too popular
– do as little reading as you can – you have staff for that
– do as little writing as you can – same reason
– involve yourself personally in your staff and Cabinet jobs as little as you can – same reason
– make no minor decisions – same reason
– send back any intelligence or other report if it's more than one sheet of paper
The Pocket Cabinet
If the bureaucrats are wearing you down, you have the right to fire any Secretary. However, Cabinet members must be approved by Senate, therefore, you have to negotiate with the Senate leaders and party leaders throughout the country. As a result, some positions may go to people you don't know well and can't trust. Then if you want to re-organize the Cabinet you have to confront the Congress, because Congress tries to protect the interests of its constituents, who are often the clients of the existing bureaucratic agencies. So, if you plan changes you have to appoint people who share your strategy.
You may also need to offer a position to a group that you need to support in the coming election, or whose help you need; or to help pass legislation (these people will be more loyal to their political benefactors than to you).
Secretaries have disadvantages compared to the staffers as they don't have easy access to the Oval Office (again, that depends on you). Some of them had little or no contact with you before being appointed. Actually, their task is to win the backing of key interest groups and that's why you, practically speaking, don't need Cabinet meetings (if there's no crisis). If a Cabinet member feels independent (usually, that's the Secretary of State), don't fire him/her – substitute him/her by the national security adviser or send him abroad on a regular basis.
The Cabinet members work hard during a crisis only. They prefer to save their plans and suggestions for private conversations with you, because that is what you need them for and they are competing with other Secretaries for your time, support and for funds.
It's not easy for the President to make government agencies work effectively : first, you have no time, second – they have no competition. Anyway, you must have insiders in all departments, especially in the Justice Department (FBI), CIA and Secret Service firing anybody who's trying to dig up dirt on you.
Secretary of Defense.
The Secretary of Defense is a very special and unique position for many reasons. This department is regarded a non-political one, defending the United States no matter what (never let him decide, though, what and where US interests are). Military leaders have a lot of friends in Congress who press the administration to accept military demands. Besides, it's not easy to manage the Pentagon, as you depend on the military for evaluations of the national military capacities; they decide also what kinds of weapons to buy and build. Half of the federal budget goes to Pentagon, making it a major department and that's the most frustrating aspect of your management.
You have to find compromise between you, Congress, public opinion, interest groups and defense contractors' lobbyists.
The defense budget affects diplomacy and international relations, because governments worldwide scrutinize it for clues about US global intentions. For example, increases in defense spending, particularly for items such as naval vessels and aircraft, may signal your intention to pursue more aggressive foreign policies, and cuts in defense spending may indicate an effort to scale back on defense commitments.
Hidden Structure
The Cabinet is divided into the inner circle (State, Defense, Treasury, Justice) and outer, less important one (Interior, Agriculture, Commerce, Labor, Health and Human Services, Housing, Transportation, Energy, Education, Veterans Affairs, Homeland Security). While inner Cabinet members are selected more on the basis of personal friendship and loyalty, outer Cabinet members are selected more on the basis of geographical, ethnic or political representation and adopt an advocacy position for their Departments.
The inner Cabinet is divided into two groups:
а) national security group (State and Defense Departments).
b) legal-economic group (Justice and Treasury Departments). The Attorney General usually serves as the president's attorney and this special responsibility leads to close personal contact with the President. The Secretary of Treasury is very important in domestic monetary and fiscal policies and international trade and currency.
The outer Cabinet is a "domestic" group. Don't waste your time meeting them – you have enough staffers for that. Sometimes "outer" Secretaries try to build their political base of support within their own bureaucracies. Don't hesitate to fire and replace any of them if they start to criticize you and behave politically independent, counting on bureaucratic and interest groups' support.
There's one (negative for you) thing in common between all Secretaries – self-interest pushes them to protect and expand their departments and then they act more like representatives of their departments to the President then the presidential envoys they were appointed to be ("divided loyalty").
ATTENTION : Secretaries of State and Defense usually form a coalition against your National Security Adviser. You must be a smart mediator as Commander-in-Chief. These two have weekly meetings, and each of them has a weekly meeting with the DNI (Director of National Intelligence), so you must know from independent sources what they are talking about in case they "forget" to tell you the details. The Defense Secretary meets weekly with the Joint Chiefs, too.
KGB Putin instructions for Trump on how to win presidential elections
1. 1 Get Ready
Before you make a decision to run for President, you must determine for yourself if you can handle the Oval Office: Are you willing to accept such a huge responsibility and put the rest of your life on hold? Are you skilled in dealing with big groups of people? Can you motivate the nation to action? And repair about your biography, which is, of course, not perfect.
Then you must:
1. Decide how are you going to impress party leaders.
2. Make intensive preliminary polling to determine your chances.
3. Poll big demographic groups as well as smaller groups of people from selected demographic groups.
4. Determine the rationale for your candidacy. What is your political record?
5. Delay announcing your candidacy until late in the year before the election to minimize expenditures and risk, avoid legal spending limits, avoid voter fatigue, avoid getting ensnarled in unnecessary controversies and contradictions.
6. Carefully study applicable election laws before you start fundraising and spending.
7. Write your campaign plan (strategic objective, tactical targets, key message, target audiences, methods of delivery, timing, your progress evaluation — polls).
8. Learn the political and economic issues and develop your campaign message.
9. Prepare the "speech" and the "book" (the "speech" is the standard speech that you deliver and it should answer the most important question — why are you running for President; the "book" contains the message and all possible questions on your program.
10. Take a benchmark poll – it will provide the road map for your campaign.
11. Establish your strategy and message
12. Study the results, polls and "successful" areas of previous election.
13. Establish a perfect graphic look (image).
14. Develop a fundraising plan, put the fundraising team in place and start asking for money. No money – no campaign.
15. Create a personal contacts pyramid (priority and general contacts) because personal popularity is your starting point.
16. Set up offices.
17. Get professional candidate training.
18. Determine the focus of your presidential policy (taxes, crime, education, health, social security, national security).
1. 2 Working with the Staff
Basic campaign staffers include:
1) campaign managers — they plan the campaign, organize and recruit the staff, supervise daily campaign operations, make priority contacts with key special groups big business and big media, correct the strategy and make quick decisions. It has to be someone you trust completely.
2) campaign consultants-specialists in both direct (personal and public meetings) and indirect (media, advertising) campaigning
3) strategists
4) analysts
5) issues researchers
6) speechwriters
7) lawyer (interprets election and campaign reporting laws)
8) personal assistants (work on issues in foreign and domestic policy in cooperation with the whole team).
9) fundraisers (plan and execute fundraising events — dinners, parties, auctions, direct appeals through telephone and letters, receptions, computerized fundraising). Big business has to be approached by rich fundraiser only.
10) scheduler (determines events and locations — TV and radio talk shows, news — conferences, meetings with students and professors at college campuses and with professionals at their associations' annual meetings, special events and fundraisers especially with ethnic leaders in big cities, as well as festivals and big shows where celebrities demonstrate their support, large extravaganzas, meetings at civic clubs, farm warehouse auctions and special auctions, local civic events. Also, scheduler makes arrangements with local media before your visit and sends media the copies of your speech; insures that good crowd will attend the event and takes care of transportation arrangements). The purpose of the campaign planning and strategic scheduling is to draw press attention to the candidate for transmission to the voting public. That's natural — the candidate who has enough media attention has much better chances of recruiting public acceptance and raising campaign funds.
11) image makers – political consultants who sell your public image as a clear, simple, portrait-like characterization, acceptable to all groups.
12) "hit men" – campaign consultants who are experts on negative advertising, designed to "kill" your opponents.
13) field staff (in target cities mostly). The most important person at any local office is the coordinator — he establishes organization and contacts influential people and political activists. Coordinators must be appointed to each special interests group (women, minorities, unions, college students, public interest activists, the professionals)
14) local volunteers are needed to work in the offices and the streets. Your family has to take an active part in your campaign, too. Your wife and kids are your visual image makers
15) running mate
During the "invisible primary" which is the nomination, campaign you have to make visits to party organizations especially in pivotal states, such as the above mentioned Iowa and New Hampshire where you have to make as many handshaking and personal contacts as possible. Key staffers must travel with you.
1. 3 Fundraising
You are the #1 fundraiser yourself. You must have substantial financial support to compete. You must have an overall plan which outlines expenditures month by month. It is imperative to have even more money on hand at the end of the campaign for an advertising blitz when the voters are most attentive and the field of candidates has been winnowed out. Half of a campaign funds go to media.
Failing to do well in early caucus and primary contests means more than losing delegates — it means that contributions stop.
Your speeches have to be a fun, and match the meal and drinks — don't be heavy and too political. Actually, you have to run two campaigns (a political campaign and a fund-raising one) and you must win both; if you raise less money than your opponent, you lose, because you don't have enough money to inform, influence, and motivate your voters. If you are a Senator or a Congressman, you already have an advantage in money (free postage on mail sent to your constituents, automatic media coverage) and you can use your congressional staff to assist your campaign. Besides, you are interviewed by reporters for free as an elected official. You can also ask your political party for a contribution to your campaign. Party money can be given in two ways – as a "direct" contribution or as a "coordinated" expenditure. Direct contributions are funds given by the party to candidates to do with as they please. Coordinated expenditures are made for such services as polling and TV advertising, but the party has a say how the money is spent. Then you have to ask PACs (political action committees) to fund your campaign, too. PACs are special-interest groups which consist of people who pool their money in order to contribute it to candidates or political party committees who share their political, social, religious or economic views. PACs include corporations, trade unions, profe hire.
To finish well in pre-nomination popularity contests ("straw polls") you have to appear daily in TV ads, and prime-time news coverage — after the primaries media "label" winners and losers and that affects voters and contributors a lot. Media, especially the most influential "the New York Times" and "Washington Post" (their publications influence decisions on which news stories will be carried on TV channels), have to take you as a very serious contender.
The key rules in fundraising are:
– find some "fat cats, " quick
– get fundraisers with lots of rich friends
– get money from those who usually contribute
– go to new York, Florida, California, Texas
And the most important strategy is to raise big money for yourself and prevent big money from being spent against you. Early fundraising is crucial to a campaign because of the high costs organization and the need to demonstrate viability. The best states for fundraising are California, New York, Florida, Texas, which supply half of all campaign donations. Go right ahead and raise money in New York and spend in Iowa and New Hampshire.
1. 4 "Winning" geography
Due to the winner-take-all electoral college system, in which the leading vote-getter in a state wins all of that state's electoral votes, you MUST win as many large states as possible rather than build up strength in states where you are weak. You have to win a majority (270 of the 538 electoral votes) and for that, concentrate on visits to the most populous states — California, New York, Texas, Florida, Pennsylvania, Illinois, Ohio, Michigan, New Jersey, North Carolina, and Georgia 54+33+32+25+23+22+21+18+15+14+13 = 270).
Work closely with your party activists and supporters among Senators, Representatives, Governors, Mayors, ethnic and religious groups leaders, big business, celebrities, unions leaders. Determine the states in which you are the strongest and then build you campaign on that basis. Republicans have usually done well in recent years in the Midwest, West and South (Tennessee, Kentucky, Texas, Oklahoma). Democrats win in the Northeast industrial base, Mid-Atlantic and Pacific Coast. New York City is a very important factor because the most active, influential and rich people live there.
1. 5 The Press
The press officer (contacts media, takes care of newspapers, radio and TV ads) — the person who markets you — is the boss of advance team that takes care in each state of a total exclusively positive press coverage. To my mind, the best choice for this position is a former journalist with good wide connections to media. He prepares press releases and press kits and schedules interviews and press conferences with the positive vision and attitude reporters (press or media kits contain your photos, a brief biography, campaign position papers, printed brochures and names of contacts for additional information).
The technique in good paid advertising is to go with those ideas, arguments, thoughts, themes and believes in which people are already inclined to believe or ready to accept. There's no difference between commercial and political advertising — you just substitute a car or shampoo for a human being. Modern presidential campaigns center on "media events" — staged public appearances, during which reporters can talk with you and take pictures (if you have too much money, you can organize media wave — a very large amount of political advertising on TV). Then, the "walking tours" must be scheduled when you, followed by reporters, photographers and TV crews visit potential supporters. Simultaneously your aide sets up press conferences, selects interviews, and background briefings. You have to talk to press 24/7 and everywhere on the campaign bus, train or plain, hotel, etc. A good thing is — you get free media coverage and people trust it more than paid coverage, like TV and radio commercials.
You win if you obey these rules:
– if you can manipulate media – you manipulate the nation (sorry, it's harder to manipulate free coverage).
– the media makes the election, not the voters
– a presidential campaign does not allow for privacy
– newspapers put emphasis on issues, TV on image, style and ability to communicate.
– never lie to reporters; they will make sure it backfires on you sooner or later.
– if an influential newspaper, radio or TV station endorses you, you have their supporters, readers, listeners and viewers.
– people remember much better what they see, not what they read; if they don't see you on TV, you don't exist.
– TV talks to 98% of Americans and takes your message — and other messages about, or against, you – immediately, straight to the nation.
– TV, not your political party, is the #1 channel of communication between you and the public
– your political party is nothing but a service center and a money machine. Parties divide the nation while your message has to be one of unity.
– take it seriously if The New York Times takes your opponent seriously.
– it's important to know what your opponent is saying to reporters privately, "not for attribution. "
– if you live in heavily populated state, like New York, California or Texas, you start the presidential election campaign with much better coverage.
– never fight the media like the Nixon administration did – they kept a list of Nixon's critics (famous reporters), so they could be targeted for harassment, accused of income tax evasion, etc. What happened then? The reporters felt like heroes, Nobel Prize winners. Better target them for buttering up, and feed them lots of stories with a spin in your favor, instead.
1. 6 Polls
Pollsters works through newspapers, Internet, telephone surveys, person-to-person surveys, mailed questionnaire to selected voters. They provide voters' behavior research and analyze past election data. They tell to you how well-known you are, how well you perform, what are the voters' preferences. You should poll voters in each state in proportion to that state's share of the national vote. (You must have at least one polling company on payroll. ) Polling is of extreme importance in presidential campaign because it's the tool to correct your strategy, determine "positive" local areas and supportive voters and work with them, it tests the nation's attitude to your personality and your issues and that means you can calibrate your message and calculate your success. The most important thing about polls is that they play indicator and identify support or hostility. And the golden rule here is: you have to ask the right question if you want to get a useful answer.
At the same time polling is one of the most expensive elements of a modern campaign because now you have to receive information on too many groups and issues, including groups with specific economic, ethnic, religious, geographic, educational, occupational and residential characteristics and how those characteristics affect attitudes about a wide range of policy issues.
Polls also help you to :
– decide whether to run or not
– improve your recognition and image
– target opposition's weakness
– formulate media ads
Your pollster has to pinpoint blocks of voters (swing districts) who are undecided and who might be persuaded to vote for you. Experience shows that 40% of public attention go to social problems, 40% — to economy and 20% — to international matters, but if the United States is at war, the situation is different and national security turns into a top priority for everyone. And watch out for campaign spies — keep polls analysis and media plan secret.
Practical polls:
"Benchmark" – surveys of the whole nation which provide basic information about your chances and the nation's political preferences (it's your "presidential decision maker").
"Follow-up" – surveys are used to gather more data about particular concerns raised in initial benchmark surveys. They are conducted state by state and are used in planning campaign strategy.
"Panel" – surveys are used to refine strategy further by re-interviewing previous respondents to determine opinion shifts on specific issues within various demographic categories. They are supplemented by continuous "tracking polls" that measure fluctuations in general voter support for the candidate across time.
"Special group" – used to poll the debate results. Selected groups of voters watch candidate debates and register their "positive " or "negative" feelings toward the candidate's specific statements or actions. After that analysts tabulate and analyze the reactions of the whole groups.
1. 7 Campaign Golden Tips
Never behave as if you think you are God's gift to the nation.
Be presidential – look calm, sincere, knowledgeable and open Mother of the nation.
Be electable – prove to the nation that you are the best choice.
No one has ever been elected the US President without winning the New Hampshire primary.
Primaries direct financial backers to a promising candidate.
Voters judge you by your friends – appear with popular politicians, big business, labor and interest groups leaders, and show business celebrities. Advertize your meetings with Congress members and world leaders (go abroad if you have a chance to meet a world leader). The most important event in the election process is the National Convention, not only because the eventual finalist candidate is actually nominated but because after that the campaign's audience increases (more than twice as many people vote in general elections as participate in the nomination process). You have to decide how to win the support of these new voters as well as to appeal to people who identify with the other party and partisans who backed losing candidates for the nomination.
1. 8 Choosing a strategy
Any strategy is good if it helps you to win support of a majority of people chosen by the state parties to be delegates to the national convention. Your choice of a strategy depends on your current position:
A. If you are an incumbent, you have to stress that the American people's life improved a lot during your first term. You can count on successful start because you are guaranteed to be known actually to every American, and the Oval Office lends you credibility and respect. It's of vital importance to have economic accomplishments — in such a case well-timed announcements of government statistics on the economy or of plans for domestic initiatives can also help you. Listen, I didn't tell you this, but you have to manipulate (stimulate) the economy during the election year with tax cuts that can help reduce unemployment, and with social programs financing. Of course, you'll have to pay for it, but that will happen after you are re-elected. And a good thing is – an improved economy erases voters' bad memories of past years.
Try to avoid too aggressive campaigning – it's a sign of weakness. Make official appearances in carefully controlled settings. Influence media coverage with official presidential actions and use "pork barrel" politics to appeal to specific constituents. You can also benefit from the nation's reluctance to reject a tested national leader for an unknown newcomer. And if you start important foreign policy initiatives, it will guarantee you continued media coverage.
If you have poor chances to be re-elected, you can play the "national security" card:
– find a US "enemy"
– start a media psychosis (see propaganda tricks and brainwashing )
– concentrate power (special services) to establish a total legal control on the nation
– provoke an international conflict, restricted or full-scale war
– send a message: "If you are against the President, you are against America! "
B. If you are a challenger you have to convince the public they don't live better than they did 4 years ago, or, if the economy is OK, point out mistakes that were made in the foreign policy. Or make up some social issue that will get passions inflamed and hijack the headlines.
KRYZHANOVSKY "GOLDEN" STRATEGY
You should seek to position yourself as close to the opposing candidate as possible in an effort to capture the "median voter" in the center, and then take by default everyone else on their side of the ideological spectrum. You have to embrace this strategy and move as close as you can to the moderate Republican position with the expectation that you can take all of the votes to the left of this position. Clear? The job is tough if you challenge a President who is popular — first, you have to break down his positive image; second, you have to portray yourself as a much better replacement. You have no choice but to start with the "outsider" strategy — you present a "fresh face" to voters weary of the current political situation (in such a case you have to attack administration in a very aggressive manner). Plus, you must give quick response to your opponent's charges (get advance copies of his speeches through friends in the media).
Then, show yourself as a smart and diplomatic person using a special "triangular" strategy, when you, like majority of the voters, place yourself between liberal and conservative positions. Evaluate situation – you may need "early knockout, " when front-runners hope to use their early strength in polls, fundraising and endorsements into decisive primary victories at the beginning of the primary season. The hope is that the candidate will build such an impressive early lead that the competition quickly drops out.
A "shift" is the most popular thing with challengers – if the President is good with national security, they point out to the problems in economy, if he's good on the economy, they point out to the problems in national security – very simple. (Watch his mistakes anyway – you can benefit from them. Bill Clinton would never have run for President in 1992 if someone from the Bush White House hadn't called him in 1990 and asked him not to run. That phone call was one of the most stupid political moves of the 20th century, because it convinced Clinton that they thought he had a good chance to win. Be simple, identify with "ordinary people" and no matter what tell the voters your parents or your grandparents "were like them – regular people, not millionaires. "
1. 9 "Black" PR
You must know some very popular and efficient dirty tricks, like "negative campaigning" or "black" PR. To make a long story short: no matter what your opponent says or what decent people think about negative campaigning — "black PR" works! Use it to turn a rumor or a fact into a serious political scandal; respond to and neutralize the opponent's attacks (using "black PR") fast, before they are broadcasted or published.
It works best through intermediates (persons and organizations not connected directly to your campaign). You must have a very detailed file on your opponent (negative research) and then start spreading negative and all kinds of compromising data from his personal and political life. If he is or was elected official (Senator, Governor, Mayor), you can point out his mistakes and actions which were not popular. People must know in detail (get your staff to read a few books) the negative sides of his life, program and terrible consequences of his election. Remember also that a rumor repeated twice turns into a fact, especially if you start a "whispering campaign" in Congress.
A "negative ID" trick is my favorite: you identify your opponent with a totally unacceptable (for the voters) viewpoint, like: "There are those who want to stop the war on international terror and you know who they are! "
1. 10 Attention : debates!
Debates are extremely important because they offer the only all-national event at which candidates can be judged. You and your opponent will be under huge stress as you both must operate simultaneously at the focus of attention of each other and of all elements of electorate. Debates are, actually, head-to-head confrontations with two main aspects: the pre-debate negotiations over whether there will be a debate, and the post-debate analysis of who did how well. The debates offer nothing new for the public and the basic strategy is to hope your opponent will make a mistake (President Ford made one in 1976, saying that: "There is no Soviet domination of Eastern Europe. " People just didn't want to hear it. Richard Nixon was very wrong in 1960 trying to debate on substance, while his opponent, John F. Kennedy, concentrated on style and on presenting the correct presidential image).
While preparing for the winning debates you must:
– have a detailed file on your opponent and study all his speeches and statements; ask yourself: "What does he have that I don't have? "
– train to answer all possible questions
– be ready to demonstrate deep knowledge of issues and your presidential bearing to a nationwide audience
– repeat your message but keep in mind that image is more important than ideas while you debate — people want to see your good looks, good clothes and nice smile.
And here are the debating "Don'ts":
Don't attack first — that's a sign of weakness.
Don't be over-polite — a little showmanship appeals to voters.
Don't be too aggressive — it will ruin your image as a future President.
Don't answer the questions too fast — that implies you are not thinking.
Don't rush, no negative emotions, no sudden gestures (extra gestures mean that you are not sure what you are saying is correct).
Don't disappoint people — speak in a clear and simple way.
And you restrict your influence if you sit.
Follow the rules :
No anxiety reactions – speech errors, moistening of lips, perspiring, shifting eye movements, body jerks. Gesturing with fingers apart communicates weakness, while gesturing with fingers tightly together communicates power.
Look at your opponent with intense concentration – it gives the attitude of command and comfort of the situation.
Answer a question you want to answer, no matter what question was asked.
If you give better answers, you are the better candidate.
Immediately after the debates your press officer has to give the media his biased impression and explain why you won the debates. Your pollster has to watch the polls results.
1. 11 Speaking in Public
"Golden" rules
1. Your aides have to determine the "theme of the day" and brief you about the day's events and issues. To get elected you must promise economic growth with low inflation and balanced budget no matter how grave the economic situation is.
2. Don't be too specific on issues and tell people they elect their way, not a candidate.
3. Cite the Bible.
4. Don't look too intellectual.
5. State repeatedly that you're not going to divide the nation into supporters and enemies, Democrats and Republicans, "my voters and other voters" — be a leader to all. (But first, to win the nomination you must appeal to the more liberal sections of your party if you are Democrat, and to more conservative sections if you belong to Republicans).
6. Don't talk much; transform your thoughts into examples and slogans.
7. Never say you want power, even if you want to save the nation in crisis.
8. Never talk down on big business. Promise federal financing, especially in economic downturns.
9. Remember: voters are extremely sensitive to tax-cut proposals and which social segment would benefit from them. The middle class brings you victory, so promise tax cuts for these people, with tax increases for the wealthy and high unemployment rates.
10. Even if the economy is OK, point out the signs of coming crisis and promise to change the situation fast. Keep talking about problems, though it's hard to win if the incumbent President runs for re-election with balanced budget and economic growth.
11. You can be liberal on domestic issues, but you have to be conservative on national security (defense and foreign affairs).
12. Remember the "women factor": there are more women than men in our country, women are more likely to be registered to vote, and among registered voters women are more likely to vote.
What to talk about where:
Iowa, New Hampshire – farm problems, energy costs, trade issues
Northern "rustbelt" states – industrial concerns
Southern states – defense and social issues
New York State – unemployment
Use these tactics:
1. "Join the crowd" — this reinforces people's natural desire to be on the winning side and it is used to convince the audience that your program is an expression of the nation's desire for change, and it is in their best interest to join;
2. "Provoked disapproval" – persuade a target audience to disapprove your opponent's message by suggesting that the message is popular with groups hated, feared or held in contempt by the target audience;
3. "Iinevitable victory" – you invite those who did not join majority;
4. "Neuro-linguistic programming" — you will be elected if you can do this better than your opponent and program the whole nation for a positive reaction. People always try to avoid anything and anybody unpleasant; and people are always looking for pleasant things and other pleasant people, somebody they want to meet again and again or at least see on TV. Everybody wants to be a winner; and to be a winner brings pleasure and self respect. Just convey this sense to the nation: "Vote for me and win! " or "Vote for me or lose! ", "The choice is yours! "